,
Yorkshire
All Points North: Women Investors & Founders Event
THERE IS A REAL NEED TO CONNECT FEMALE FOUNDERS WITH INVESTORS.
Globally, less than 10% of funding goes to women-led businesses, and in the UK only 2.17% of funding went to women in 2016 (Pitchbook). And yet, data shows that startups with female leadership grow faster (Forbes). We also know that female investors are more likely to back female-led startups (UKBAA 2018).
NorthInvest are therefore excited to invite female founders and investors in tech or digital to our All Points North: Female Founders & Investors event!
If you are a female founder or investor wanting to grow your network, build confidence, and disrupt the industry by helping other women get ahead, this event is for you!
What does the event involve?
All Points North is an informal get-together where female founders and investors can be inspired by female business leaders sharing their experience and insights on:
– How to make informed investment decisions
– How to create a successful pitch
– How to approach investors
– How to increase your confidence in business
You'll get to meet like-minded people who are experienced, passionate about the region and tech, and genuinely want to help other female business leaders and investors reach their full potential.
Our guest speaker: Introducing Jodie Hill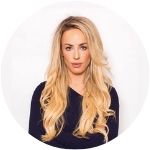 Jodie Hill is also a Fellow of the Royal Society for Public Health, Part-Time University Lecturer, Private Tutor, and Mental Health Campaigner whose work has been nationally recognised. In 2018, Jodie was personally recognised for her leadership and featured on the Future Leaders Northern Power Women List.
Thrive Law has been shortlisted for multiple awards, including:
Law Society Excellence Awards 2018 – "Personality of the Year"
Brand Yorkshire Awards – "Best New Business"
Inspiring Women Changemakers Awards "Diversity Driven Business"
Lunch and refreshments are provided for up to 20 people – book your ticket now!
#womenintech #northernpowerwomen